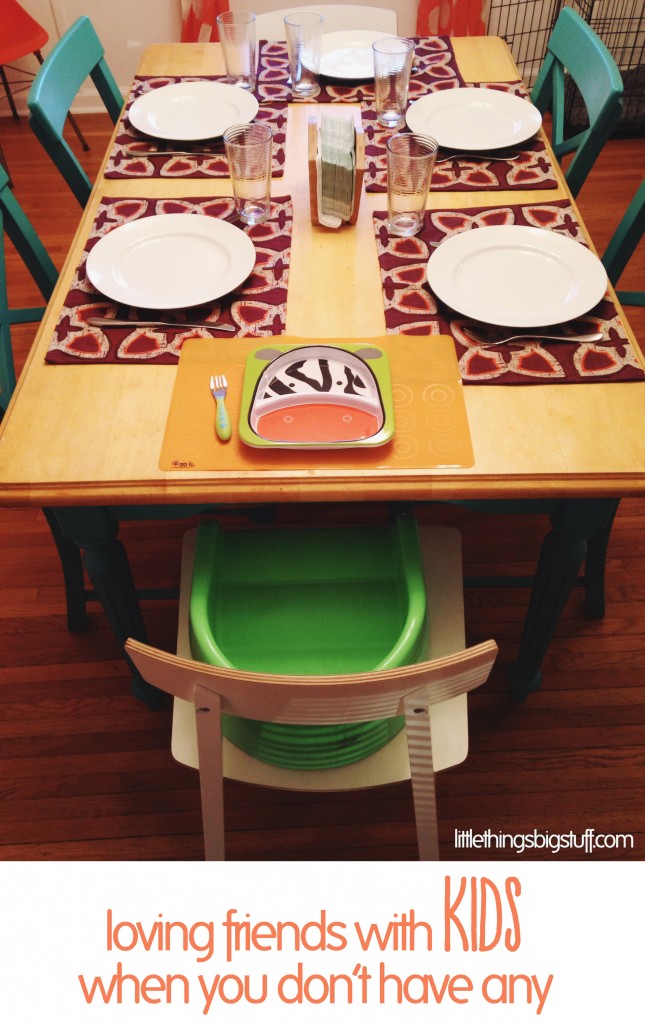 My husband and I are in an interesting situation, being the friends without kids or the friends with kids or the friends with kids on the way at different times. We regularly host kids through our local Safe Families branch while we wait for the okay to pick up our adopted twin sons.
At the wedding of a friend last month, it hit me that soon, more of my friends will have kids than won't. I absolutely love talking with my friends who are parents, especially since Dan and I are headed that way. A couple weeks ago, we had two new friends, as well as their two kids, over for dinner. It adds another dimension to time together. And it's not a bad one!
So, how can we, as singles and couples without kids right now, bless and love and serve our friends with kids?
1) HAVE A (MOSTLY) KID-FRIENDLY HOME: It's so fun to host friends with kids, and they will love to be able to let their kids make a mess in a home that is not their own for once. Make sure your home is prepared for it, though. Do a quick baby-proofing/child-proofing scan.
Are there things you don't want touched? (Remotes, family mementos, fragile decor.) Are there things that are dangerous? (Burning candles, knives on the counter, excessive cords.)
Think about the ways you might help entertain the kids. You can buy cheap coloring books, Play-Doh, or stickers. If you have a fenced-in backyard, a frisbee and soccer ball can be fun. And if the kids are younger, household items (measuring cups!) do wonders.
2) OFFER TO BABYSIT: Please know your friends do not take enjoyment in asking you to babysit. Anticipate their need for time together and offer! Even if your schedule is relatively inflexible, they will be most grateful for any time they can get.
We have been so grateful to have capable, willing friends and family offer to babysit our Safe Families kiddos. Also, Dan agreed to babysit with me on a regular basis when we were dating. So sexy, ladies. Bring your man!
3) UNDERSTAND THE WAY THEIR KIDS MAY BE DIFFERENT FROM OTHERS: You are bound to have friends with kids with varying degrees of special needs. And I hope you have friends with adopted kids!
I'm still learning how very widely the preferences, personalities, and needs of kids can vary. Keep this in mind. Your friends haven't done anything wrong if their child hates loud sounds or uses a wheelchair or runs to strangers. Work hard to figure out how you can still serve them when all else you thought you knew about kids turns out to not be true.
An example: Many families choose to be the exclusive caregivers of their adopted children for a period of several months after adoption. Though they would love a night out, they might not take you up on babysitting. Consider asking if you can make them a meal or help with laundry instead.
4) KEEP NEGATIVE COMMENTS AT BAY: It's okay if you don't want kids right now. It's okay if you don't ever want kids. And I am okay with you telling me this!
But please, be careful to not share this after your friend tells you about her sleepless nights or her tantrumming toddler. Show support and interest, even if you're so not jealous of their current situation.
5) TAKE INTEREST IN THE MILESTONES: I love kids, and even I get bored with hearing about friends' kids' milestones. (Though first day of school pictures are so dang cute!)
Celebrate with them when their baby crawls. Celebrate big when their baby sleeps through the night! Laugh with them about potty-training adventures. Cheer them on when their teenager graduates high school.
Natalie blogs at little things + big stuff about adoption, foster care, faith, and married life. She's a social worker in Midwest, married to her favorite person, a medical resident. They're adopting twin toddlers from Central Africa. This post was part of her 31 Days series, This Sweet Love: Little tips + big ideas for new relationships and young marriage.