Jamie was one of my very first blogging friends and probably one of the first people (besides family) to read my blog. We navigated the world of being newbie bloggers together and her blog is one I still continually read. She has the sweetest heart and the two most adorable boys; and like our family, they have decided to take the leap, answer the call to adopt internationally.
Please, please take a moment and read this post from Jamie. Learn more about her heart for the special needs children of China and learn how you can help support her family's adoption. Hint: It involves super cute jewelry.
Hello Texas Lovebirds readers! I'm excited to share with you the story of why my family is choosing to adopt a special needs baby girl from China. Thanks for reading!
Whenever I tell people that we're adopting they always ask me, "Did you always want to adopt?" or, "What makes you want to adopt?" Those are definitely the two most commonly asked questions and so, I am answering them today.
I think I was in high school when I heard somewhere that girls in China are given up for adoption so that the family could try for a boy. China had restrictions on how many children they could have and boys were coveted. This broke my heart and right then and there I resolved that someday, somehow I would adopt one of those unwanted baby girls from China.
Ritchie and I discussed adoption early in our relationship and it was always left up to, "We'll see what happens, but we'd love to do that someday". Adoption is expensive, plain and simple and the many times we really began to look into it we didn't meet the requirements for an adoption from China. Our conversations never went much further than that.
Fast forward. Two beautiful boys later and the discussion of more babies begins. I had been following another blogger, Ashley Ann's, story about bringing home her daughter with a cleft lip and palate from China through the Waiting Child program. The Waiting Child program specializes in placing children with special needs from China into families. It lit a little fire inside of me. That seed that had been planted all those years ago in high school began to sprout. I began to slowly research a Chinese adoption again and this time, we fit the requirements. Coincidentally, I began to look into agencies that catered to the Waiting Child program in China, found a reputable one locally and immediately spoke with several local families that had used and loved that agency.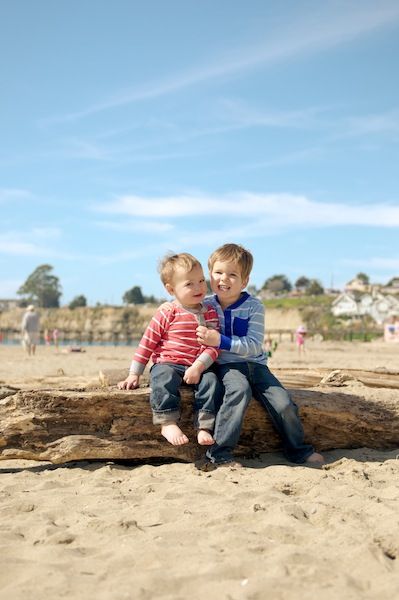 Our boys that cannot wait to bring home their baby sister.
A deeper discussion began. Ritchie quickly fell in love with the idea of bringing home a baby from the Waiting Child program, which was something we hadn't considered before in our previous adoption discussions. The more we talked and researched and sought out other families that had adopted, the more we longed to begin the process. The more we began to feel like our daughter was out there and we NEEDED to get her home.
And so we began. Beginning the adoption process without all the funds you need readily available for you takes a huge leap of faith. We know we have a daughter in China waiting for us. We're trusting we'll somehow get her to us. Faith.
Our family. Soon to be five. Five sounds awesome to me.
One way we're working to get her home is by trying to ease some of the many expenses with fundraising. My amazingly generous friend Gemma has helped me organize a Stella & Dot fundraiser. For the entire month of April, for any purchase made through Gemma's Stella & Dot website, 100% of the proceeds go to our adoption. 100% of the money made goes to BRINGING OUR BABY GIRL HOME. I cannot tell you how grateful I am for friends like Gemma who are so generously helping us raise funds and friends like Carly who are helping us spread the word.
THERE ARE 3 WAYS YOU CAN HELP US BRING OUR GIRL HOME:
1. Make a purchase through Gemma's Stella & Dot website.
Make sure to go to the top where it says, "Find Your Hostess" and type in Jamie Lincoln.
2. Don't need jewelry, but still want to help? We're accepting PayPal donations through a link on my blog. Any donation, big or small is valuable and appreciated.
3. Spread the word! Tweet, Instagram, Facebook, your own blog. Any way you're willing to help spread the word is SO helpful.
And for a little more incentive, there's a giveaway!! Gemma is offering a $50 gift card to her website if you make a purchase in April OR if you donate through my blog.
Even better? For every $5 you donate or spend at Stella & Dot you get 1 entry. Spend $20? 4 entries! Donate $50, 10 entries! Up your chances of winning with every $5 that you spend/donate.
Make sure you visit my blog and leave a comment saying which way you contributed to our adoption and you'll be entered! A winner will be chosen at random on May 1st.
Thank you all for taking the time to read my story and support our adoption!